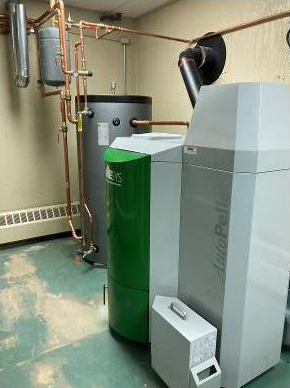 It has been nine months since you and your crew installed the Okofen pellet boiler system and pellet storage in our home. I couldn't be more pleased with the result. The system has run continuously since last July, supplying all our heat and hot water. At first, I was concerned that it would be noisy and create dust. This is not the case. The system is quiet and there is no dust.
Since the initial filling I have had one delivery of pellets. The truck parks out front, the hose is connected and my storage is filled in about 30 minutes. Amazing!
Your design and installation plan went smoothly enough for the system to be completely installed in three days. I thought it would have taken much longer. A pleasant surprise.
Thank you for all of the above, and your quick response when I wanted more information or the answer to a question. I would recommend you and your company to anyone looking for this type of equipment. 
Sincerely,
Robert Munroe
Ashburnham, Mass